The official website of Nantong Co., Ltd. of Shanghai Songjiang Shock Absorber Group introduces to you: Vernier Caliper Certificate 2018, Songjiang Group specializes in producing all kinds of rubber shock absorber joint products. The following is the vernier caliper identification report of our factory in 2018.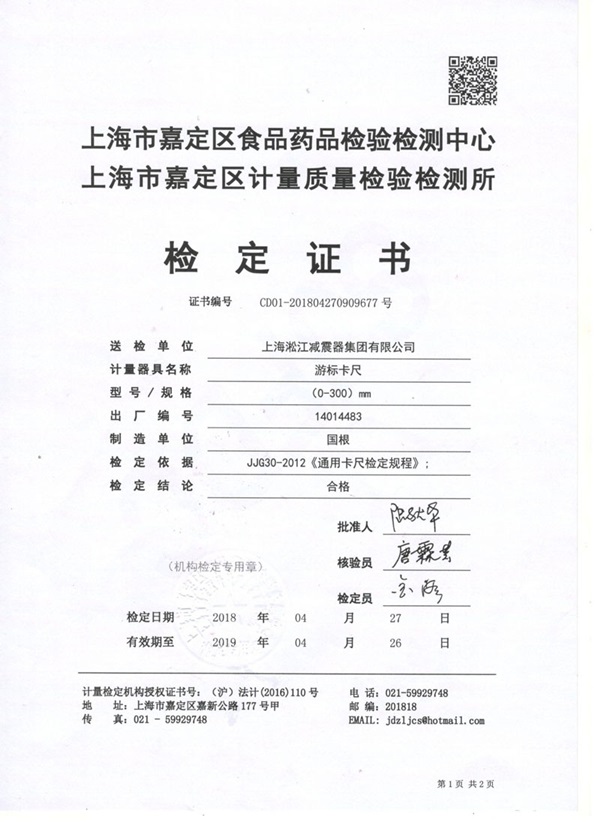 Shanghai Jiading District Food and Drug Inspection and Testing Center
Shanghai Jiading District Metrological Quality Inspection and Testing Institute
Certificate of Accreditation
Certificate number: CD01-201804270909677
Inspection Unit: Shanghai Songjiang Shock Absorber Group Co., Ltd.
Measuring Instrument Name: Vernier Caliper
Model and specification: (0-300) mm
Exit Number: 14014483
Manufacturing Unit: National Root
Identification Basis: JJG30-2012 "Verification Rules for General Calipers"
Verification conclusion: qualified
Verification Date: 27 April 2018
Validity: 27 April 2019
Certificate No. of Authorization of Metrological Verification Institution: (Shanghai) Family Accounting (2016) 110
Tel: 021-59929748 (Jiading Metrology Quality Inspection and Testing Institute)
Address: No. 177 Jiaxin Highway, Jiading District, Shanghai
The above information of vernier caliper Certificate in 2018 comes from the qualification center of the official website of Shanghai Songjiang Damper Group Co., Ltd. The certificate is authentic scanned, please do not modify, do not reproduce, thank you for your cooperation, the certificate is only a certificate of qualification. For more information, please click: rubber joint qualification certificate http://www.songjiangjituan.net/zizhi