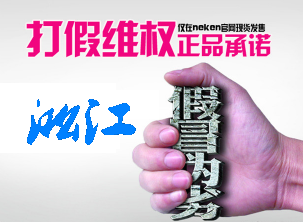 Shanghai Songjiang shock absorber manufacturing Co. Ltd. is the earliest of the shock absorber manufacturing, shock absorber industry first-line brand, which makes some people with ulterior motives of the enterprises, registered with the name of our company is close to or similar to the "three noes" company to confuse and deceive customers.
Shanghai Songjiang shock absorber manufacturing Co., Ltd official website: www.songjiangjituan.com, in addition, other sites are manufacturing and Shanghai Songjiang Shock Absorber Co. Ltd has nothing to do.
Our factory has established a complete set of quality assurance testing system and strict after-sales service management system, the company to ensure the quality of products, to crack down on fake and shoddy products, allow customers to buy the rest assured safe qualified "Songjiang" brand products.
Please new and old customers to buy products for:
1, the label of the product: our company manufactured each product has a "Song Jiang" brand, if not then to fake our company brand products, please contact with our company, Tel: 021-60960001.
2, product certification: my company products, all products have to pass strict inspection, inspection qualified to allow factory, the factory products hold my company quality inspection department to produce "product qualification certificate".