The following is the answer given by the technical department of Songjiang Group for the report on the non-smooth inner diameter of rubber soft joint. Rubber soft joint should be put into the mould before vulcanization. The shell is made of metal mould. The inner diameter mould is made of rubber mould. It is also called rubber gas and gallbladder mould, which is called air blowing mould in the industry. The shell mold is made of die steel, and its service life is usually 3-5 years. The long-term use will lead to unavoidable bump on the surface of the metal mold. The vulcanized rubber joint surface will also be printed with the bump marks on the surface of the metal mold. This kind of mark is not that the product is not vulcanized completely, but that it is branded. This kind of mark does not affect the performance and quality of the product, and the service life of the product. It won't have any impact.
The inner hole mould of rubber joint is made of ageing-resistant rubber. Its service life is about 100 times. The service life of DN300 or above is only about 50 times, and that of DN500 or above is only about 20 times. This kind of rubber gas-gall mould has service life. For example, small-caliber rubber gas-gall can be used about 100 times. When used 80 times, the surface of rubber gas-gall will crack and the crack path of rubber gas-gall-gall turtle will appear. The inner diameter of rubber joints will be printed. This phenomenon is the gas and gallbladder surface branding produced in the vulcanization process of rubber. The inner diameter of 20 rubber joints produced after vulcanization will appear this kind of grain. This kind of grain will not fall off, will not cause quality problems, and will not affect the service life.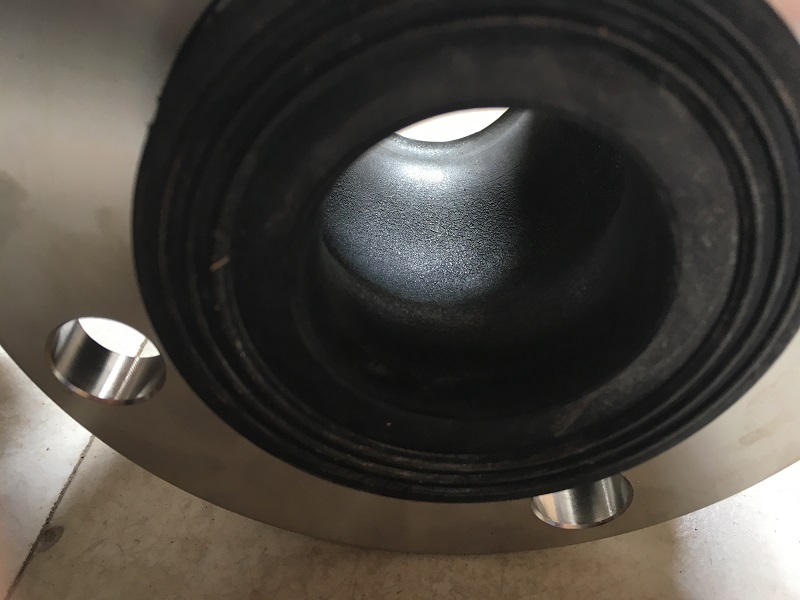 Correctly speaking: because the weather is hot, the inner rubber becomes soft and pushes downward when filling the gas gallbladder. Extrusion of the inner rubber results in some overlapping of the inner rubber. Because the stripping agent is coated before filling the gas gallbladder, the overlapping part can not be vulcanized into one, which results in cracks in the inner diameter.
This is to discount the inner rubber when filling gallbladder, because the inner rubber should be coated with demoulding agent before vulcanization to prevent adhesion with gallbladder, the broken rubber because the demoulding agent does not vulcanize into one, after vulcanization, seemingly cracked phenomenon occurs, this kind of grain does not affect the quality!