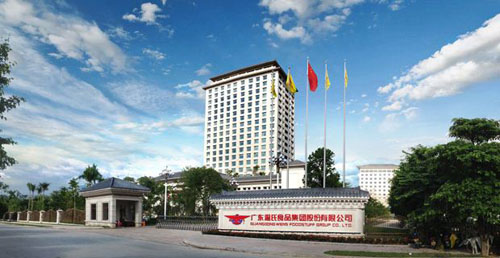 Shanghai Songjiang Damper Group Nantong Co., Ltd. will introduce to you: Yunfu Wenshi Shefeng Rubber Soft Joint Project case information, Songjiang Group sales signed the project on April 26, 2018, to provide Wenshi Group with rubber soft joint products, specifications DN50 to 80, DN65 to 80, DN50, DN65, DN80, etc. The following is a detailed description.
Introduction of Guangdong Wenshi Group:
Guangdong Wenshi Food Group Co., Ltd. (abbreviated as "Wenshi Share") was founded in 1983 and has developed into a cross-regional modern agricultural and animal husbandry enterprise group with livestock and poultry breeding as its main industry and supporting related business. On November 2, 2015, Wen's shares were listed on the Shenzhen Stock Exchange (stock code: 300498). As of December 31, 2017, Wen's shares have 262 holding companies, 554,000 cooperative family farms and more than 50,000 employees in more than 20 provinces (municipalities and autonomous regions). In 2017, Wen's shares listed 19.0417 million pork, 776 million broilers and 30.98 million ducks, with a total sales revenue of 55.657 billion yuan.
The concentric rubber soft joint products and single sphere rubber soft joint provided by Songjiang Group for this project are carbon steel flange, natural rubber, medium is normal temperature water, below 70 degrees. Rubber joint features small size, light weight, good elasticity, easy installation and maintenance. It can absorb transverse, axial and angular displacement caused by pipeline vibration after installation, and it is not restricted by pipeline centrality and non-parallel flange.