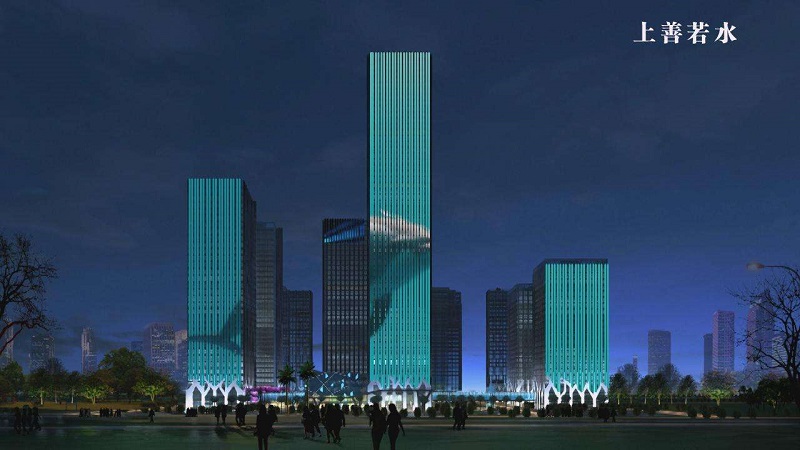 Nantong Co., Ltd., Shanghai Songjiang Shock Absorber Group, will introduce to you: The contract case information of JB spring shock absorber in Dongguan City's Lianyu Huijin Center. The project was signed by Songjiang Group on May 11, 2018. It is a carbon steel JB spring shock absorber and ZTY spring shock absorber product for Dongguan City's Lianyu Huijin Center. The following is a detailed introduction.
Introduction of the Huanyu Huijin Center in Dongguan City:
The Huanyu Huijin Center and the International Trade Center are just two "portals" from south to north. The International Trade Center is the North portal and the Huanyu Huijin Center is the South portal of CBD. There will be competition between the two, but more complementary advantages.
The planned land area of Huayu Huijin Center is 50831.4, with a total construction area of about 750,000, including 520,000, covering over 100,000_enterprise headquarters base, about 200,000_super-high-rise A-level office buildings, about 120,000_commercial office apartments, and about 100,000_shopping centers as a business, leisure, entertainment and shopping complex. Huanyu Huijin Center is a special product tailored for Dongguan headquarters enterprises. After completion, the Huanyu Huijin Center will focus on attracting investment for the eight new strategic industries in Dongguan, and build the project into a high-end business headquarters experience zone relying on the headquarters base industries such as group control, extended manufacturing, professional intermediary services and so on. With flexible space demand, high-grade property image, high-end hardware support, smooth communication platform, comfortable office environment, extremely advantageous location and traffic conditions, the Huanyu Huijin Center will become an important platform for upgrading and transformation of Dongguan city.
The spring shock absorber models provided by Songjiang Group for this project are all JB-100-S, JB-150-S, JB-200-S, JB-250-S, ZTY-090-C, ZTY-180-C and other products. The quality assurance period is four years. The product is installed on the anti-smoke and exhaust system to reduce noise and vibration. Songjiang Group provides spring shock absorber products for many domestic smoke exhaust systems. We also produce rubber soft connectors, wave connectors and so on. Stripe compensator, metal hose and other shock absorber series products.