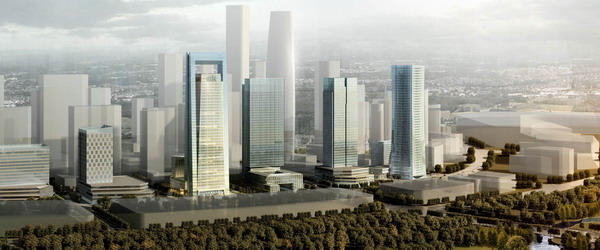 Shanghai Songjiang Damper Group Nantong Co., Ltd. will introduce to you: Chengdu Zhongjiao International Rubber Soft Joint Project case, Songjiang Group sales signed the contract on September 7, 2017, to provide rubber soft joint, stainless steel metal soft joint products for Chengdu Zhongjiao International Building. The following is a detailed introduction.
Introduction of Chengdu China Jiaotong International Project:
Under the background of the economic development strategy of "dual-core and co-prosperity" between Chengdu and Tianfu New Area, China has invested a huge sum of 1 billion yuan to build a top international professional design team to build 5A-class international first-class office buildings with international vision and standards. The project is in line with the mainstream integrated office mode in the world. It integrates 220-metre super-high-rise international 5A Class A office building, multi-format characteristic business supporting and international fashionable boutique business hotel to create a harmonious and unified international business port with modern atmosphere, which integrates business, office, hotel, catering, conference, leisure and fitness functions and forms an interactive integration. Multifunctional and efficient business service system.
The rubber soft joint diameters provided by Songjiang Group for this project are: DN125, DN200, DN250, DN350, DN300, pressure PN1.6MPa, flange is carbon steel, natural rubber; stainless steel metal soft joint diameters are DN80, DN100, pressure 1.6MPa, carbon steel flange, intermediate ripple is 304 stainless steel; Songjiang Group provides rubber soft joint products for many domestic high-rise projects.