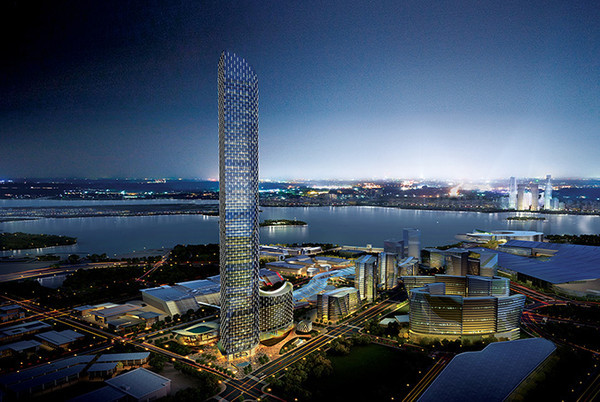 Shanghai Songjiang Damper Group Nantong Co., Ltd. will introduce to you: Suzhou Guojin Center project rubber soft joint case information, Songjiang Group sales signed the project on March 8, 2017, to provide rubber soft joint products for Suzhou Guojin Center, the following is a detailed introduction.
Introduction of Suzhou National Gold Center, the tallest building in Jiangsu Province:
Jiangsu's first tallest building, Suzhou Guojin Center, is located in Hudong CBD core business circle of Suzhou Industrial Park. It covers an area of 22,000 square meters and covers a total area of 368,000 square meters. Its main tower has five floors underground and 98 floors above ground, reaching 450 meters, exceeding Suzhou's highest peak and dome mountain (341.7 meters above sea level). It will become the first tallest building in Jiangsu Province after completion.
The project of Suzhou International Finance Center is constructed by China Construction Third Bureau Group Co., Ltd. The low-level top die system adopted in the project is developed independently. Since May 17, 2014, after 511 hours, 91 lifts have been completed, setting a record of accident-free operation in the whole process. Moreover, because of its special geographical environment, height and volume, the construction unit project has created the largest number of projects in Jiangsu Province and even in the whole country.
The rubber soft joint products provided by Songjiang Group for this project are of type DN50 and DN150 of 16 kg pressure and DN150 of 25 kg pressure. The rubber material is natural rubber, which can withstand high pressure. The suitable medium is ordinary water and the temperature is below 75 degrees. The Songjiang Group provides rubber soft joint products for many high-rise projects in China.