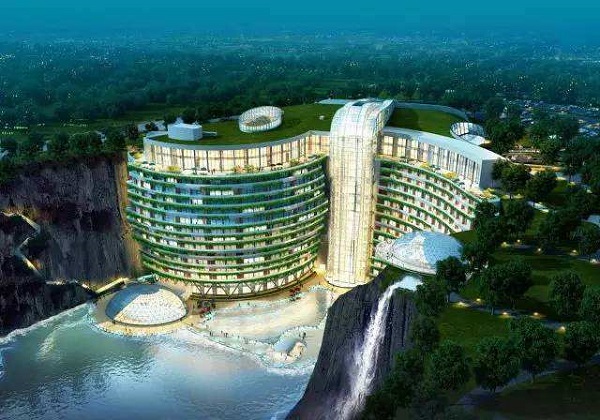 Shanghai Songjiang Shock Absorber Group Nantong Co., Ltd. to introduce you: Shanghai Songjiang Deep Hole Hotel water curtain project rubber joint case information, Songjiang Group sales signed the project on August 3, 2018, for Shanghai Songjiang Deep Hole Hotel rubber soft joint, damping spring shock absorber products, the following is a detailed introduction.
Shanghai Songjiang Sheshan Shimao Deep Pit Hotel:
The Shimao Deep Pit Hotel in Tianma Mountain, Shanghai, is the first five-star hotel in the world invested by Shanghai Shimao Group. The hotel is equipped with underwater scenic suites, air gardens, spectacular waterfalls, steel structure anti-earthquake buildings with magnitude 9, etc. In March 2013, the Deep Pit Hotel was officially started. On October 21, 2013, the first blasting was carried out on the wall and bottom of the pit. It is scheduled to be completed by the end of 2015 and opened in the first half of 2016. After completion, it may become the lowest hotel in the world. With the opening of this hotel, Shanghai will usher in a world architectural miracle. The world's first five-star "Deep Pit Hotel" will become the lowest hotel in the world!
Songjiang Group provides rubber joint and ZTA spring shock absorber products for this project. The rubber joint models are DN50, DN65, carbon steel flange, natural rubber, suitable medium: normal temperature water, below 70 degrees; spring shock absorber model is ZTA-60; Songjiang Group provides rubber joint products for many domestic hotel projects.