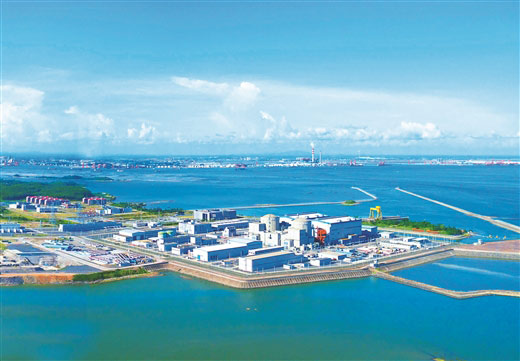 Shanghai Songjiang Damper Group Nantong Co., Ltd. will introduce to you: Fangchenggang Nuclear Power 102 overhaul rubber soft joint project case information, Songjiang Group sales signed the contract on September 11, 2018, to provide Songjiang rubber soft joint products for Fangchenggang Nuclear Power Plant, model DN300, Songjiang Group provides rubber soft joint products for many domestic nuclear power plants.
Introduction of Guangxi Fangchenggang Nuclear Power Station:
Guangxi Fangchenggang Nuclear Power Station is one of the 23 key projects started in 2010 for the western development. It is located in Hongsha Village, Guangpo Town, Port District, Fangchenggang City, Guangxi Autonomous Region. It is located on the eastern side of the Peninsula. It is jointly invested by Guangdong Nuclear Power Group of China and Guangxi Investment Group. Guangdong Nuclear Power Group of China is mainly responsible for the construction and operation management of the project and plans to build 6 MW nuclear power units. It is China's first nuclear power project in the western region and ethnic minority areas. Power generation began in October 2015.
With the rapid economic development in the central and western regions of China, the demand for electric power is increasing. The existing thermal power, hydropower and other power generation capabilities can no longer meet the needs of regional economic development. The contradiction between supply and demand of electric power is prominent. In Guangxi, the hydropower resources have been basically developed, and there is a lack of primary energy such as coal and natural gas. Under such circumstances, the development of nuclear power becomes the best choice.
Songjiang Group provides Songjiang Rubber Soft Joint Products, Model DN300, Flange Carbon Steel, Natural Rubber, Applicable Medium: Normal Temperature Water, below 70 degrees, no acid and alkaline, no corrosiveness, special order products manufacturers do not support returns. Here, Songjiang Group said that when selecting matching flange, butterfly valve special flange must be used to ensure that the inner diameter of matching flange is the same as that of rubber soft joint.