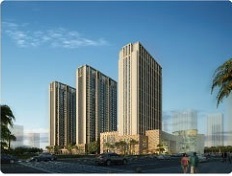 Shanghai Songjiang shock absorber group Nantong Co., Ltd. will introduce to you: Xiamen Ruxin Maternal and Child Hospital rubber soft joint project information, Songjiang Group sales signed the contract on September 18, 2018, to provide Xiamen Ruxin Maternal and Child Hospital with rubber soft joint products.
Xiamen Ruxin Maternal and Child Hospital:
Ruxin Maternal and Infant Hospital is the first Hong Kong-funded second-level specialist gynecology and obstetrics hospital in Fujian Province. Adhering to the medical purpose of "Dun Ai Ren Shu Shan Xin", it focuses on providing high-end medical services such as professional, international quality gynecological, obstetric and child health care, women's health care and medical cosmetology for families in Xiamen and the surrounding areas of Southern Fujian.
The hospital is established in strict accordance with the JCI Hospital Accreditation Standard of the Joint International Hospital Accreditation Committee, and conforms to the International Medical Management and Medical Safety Guarantee Standard. It is a maternal and infant health complex that integrates high-end medical services such as maternity, child health care, motherhood rehabilitation, medical cosmetology, health check-up and other supporting services such as maternal and infant supermarkets, photography, early education, etc.
Songjiang Group provides Shanghai Songjiang Rubber Soft Joints for this project. The models are DN250, DN200, etc. The flanges are made of carbon steel, natural rubber, suitable for medium room temperature water, below 70 degrees, no acid, alkali and corrosion. For the rubber soft joints of DN200 type or above, butterfly valve special flange must be used when selecting matching flange to ensure the inner diameter of matching flange and rubber soft joint. Similarly, avoid leakage.