KYT type concentric rubber joint with different diameters for pump house
The official website of Shanghai Songjiang Shock Absorber Group Co., Ltd. introduces to you: KYT pump room concentric rubber joint information, Songjiang Group is a supporting rubber joint product for many pump equipment manufacturers, this product has good shock absorption effect and noise reduction effect. [Product Name]: KYT Concentric Variable Diameter Rubber Joint for Pumping […]
The official website of Shanghai Songjiang Shock Absorber Group Co., Ltd. introduces to you: KYT pump room concentric rubber joint information, Songjiang Group is a supporting rubber joint product for many pump equipment manufacturers, this product has good shock absorption effect and noise reduction effect.
[Product Name]: KYT Concentric Variable Diameter Rubber Joint for Pumping House
[Product Brand]: Songjiang Group
[Product Model] DN50*40~DN400*300
[Applicable Environment] Architecture, Water Supply and Drainage, Light and Heavy Industries, Refrigeration, Water Heating, Fire Protection, Electric Power, etc.
[Product characteristics]: simple structure, convenient installation, good shock absorption effect, etc.
[Rubber Material]: EPDM, oil-resistant rubber, high temperature-resistant rubber, natural rubber and so on can be customized according to customers.
Flange Material: Stainless steel 304, carbon steel, ductile iron, PVC flange can be customized according to customers.
[Product Description] The concentric and different-diameter rubber joint products produced by Songjiang Group are inscribed with the words Songxia. Songxia is a high-end brand of Songjiang Group. The words Songxia are engraved on special products such as double-ball, different-diameter, thread and 25kg.
The concentric rubber joint of KYT pump house is a kind of pipe joint with high elasticity, high air tightness, medium resistance and climate resistance. Concentric rubber joints with different diameters are mainly used in special pipelines with different diameters at two ends, also known as large and small heads. It solves the trouble of the pipeline vibration caused by the change of thickness, and has a good effect of reducing vibration and noise.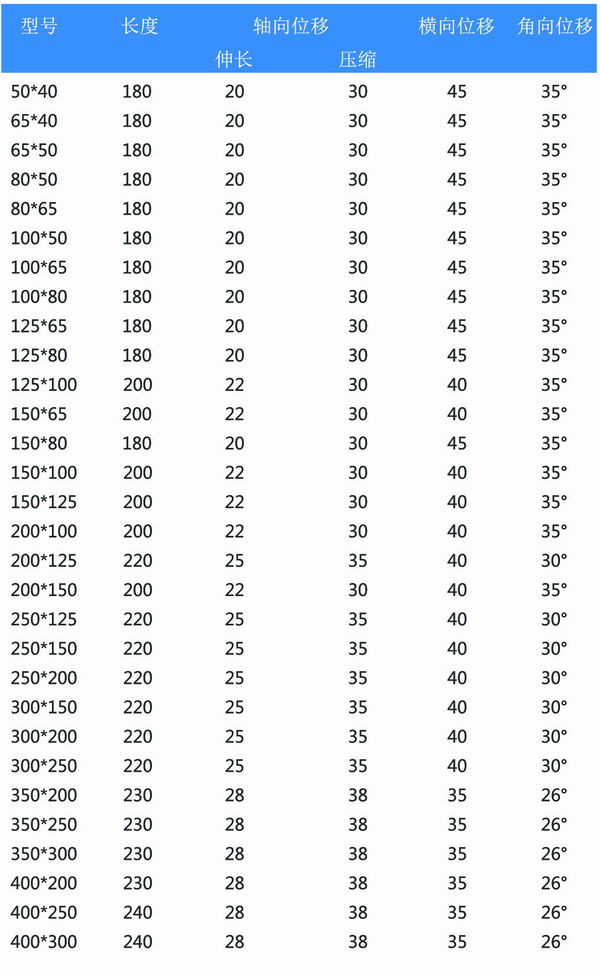 服务承诺 我公司坚持"为用户服务、对用户负责、让用户满意"的宗旨,不断提高企业的产品质量和服务质量,并作出如下承诺:
(1)严格履行合同中的各项条款,保证按质按期交货;
(2)认真遵守"三包"服务,凡在"三包"期内出现质量问题,我方负责维修、调换、退货。质保期为12个月;
(3)如果在施工安装过程中出现疑问,供方在接到需方反应后将立即予以答复,如需现场处理可以24小时到达;
质量保证及售后服务承诺
1.工程投产后12个月内或产品交货后18个月内为质量保证期。
2.我公司对外购配套零部件设备质量负责,对采购的零部件设备进行严格的质量检验,交货时向买方提供其产品质量合格证书及有关安装使用等技术文件资料。
3.我公司保证提供的设备是全新未使用过的,经过严格的工厂性能试验和质量检测的,技术先进并成熟可靠的现代化产品。保证提供的设备在各方面符合招标文件规定的质量、规格和性能。保证提供的设备经过正确安装,正常操作和保养性况下,运行安全、可靠。
4.在合同规定的质量保证期内,我公司对由于设计、制造和材料、外购配套零部件的缺陷而造成所供设备的任何破坏、缺陷或故障,我公司免费负责修理或更换有缺陷的设备,以达到技术条件规定的要求。质量保证期外,我公司有义务对提供的设备实行有偿终身维护。
用户服务
1.我公司非常重视产品的售前、售中与售后服务,设立了客户服务部专责用户服务,为用户提供售前、售中的技术咨询,售后的安装、调试、维护与现场技术培训服务,解决用户提出的问题,收集用户意见等。
2.客户服务部设有24小时热线电话服务,由专职的工程师受理用户来电,保证用户在使用设备的过程中,及时得到技术上的支援和服务。对于设备故障的投拆,我公司保证在接到用户投拆的4小时内响应用户的维护需求,24小时内到达现场排除设备故障。不管何时、何地,我公司保证将以最快的速度响应用户的要求,为用户解决设备存在的问题。
3.为确保能及时到达故障现场和迅速排除故障,我公司与供应商建立了强大的售后服务体系,在北京、沈阳、南京、杭州、山东、西安等,地设有维修中心,并存有足够的备品、备件,以满足排除故障的需求。
建立用户档案,完善产品质量
客户部除收集、处理和跟踪用户的投诉外,还制定用户回访计划,主动定期征询用户意见,如召集座谈会、走访用户和发放《用户意见调查表》等。同时建立用户档案,记录产品运行情况,为提高产品质量和服务质量提供依据。
培训
为使用户更好地了解公司产品的特点、使用和维护,为保证产品的固有使用价值得到充分发挥,延长产品的使用寿命,设立了培训部专责用户及内部员工的培训,为用户提供的培训服务包括:
1.现场操作人员的培训
我公司工程技术人员在设备的安装、调试结束后,给现场操作人员进行培训,主要是安装、使用及维护方面的知识,使现场操作人员能够正确操作设备和设备的日常保养与常见故障的排除。
2.组织用户到公司培训
公司定期或应用户要求组织用户到公司培训,由公司选派具有各方面能力的专职教师讲课,培训的内容包括:全面小解产品的工作原理及硬、软件知识,了解产品的安装、使用、操作与保养,了解常见故障的处理方法,相关技术的现状与同类产品比较等。
3.公司派出专职培训教师到用户单位的培训
应用户要求我公司可派出专职培训教师到用户单位对用户进行培训,培训的内容包括:全面了解产品的工作原理及硬、软件知识,了解产品的安装、使用、操作与保养,了解常见故障的处理方法,相关技术的现状与同类产品比较等。